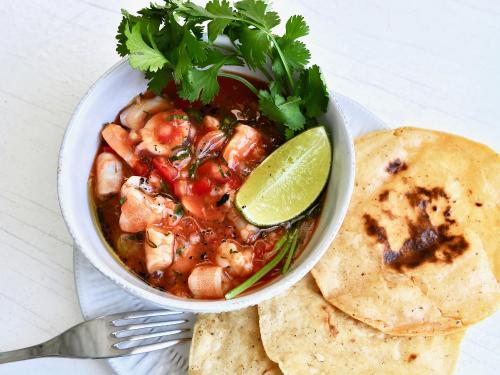 Enjoy this Easter week our lenten menu: Ceviche Fest 2019, from HOUSE Restaurant in Cuernavaca
(The prawn that falls asleep is taken away by the stream) "You snooze, You loose."
From April 12th to 28th we enjoyed the Ceviche Fest at HOUSE Restaurant in Cuernavaca.
Chef Karina Rodriguez is inspired by the Mexican Seafood Restaurants to create a delicious and perfect menu for this Easter season.
You can not miss it!
The wealth of the Seafood Marisquerías is extensive; The taste is unique, they cook with such honesty and simplicity that you cannot help but fall in love.
It is what it is, without more or less, it is taste, it is love, it is smell, it is tradition… everything is based on a gastronomic experience for the tastes and thanks to the city street and the symphony that we care about noise of cars, "routes", horns, tires, escapes of old cars, sounds that harmonize with everything you put in your mouth.
Adding to that, the "Pasale güerita!" Words that the seller utters without distinction of color of the skin of the diner, plastic benches and the variety of hot sauces in the center of the table, shining with their own light, and when they are uncovered a small song of sirens escapes What do you like?
To enjoy my long stay under the blue canvas, I like the aroma of burnt oil mixed with the air of fish, shrimp and fried tortillas. I like the brotherhood that proliferates in the environment, we are all the same and we are there for the same reason: "To stuff our faces".
- Ana Karina Rodríguez
Executive Chef, HOUSE Restaurant
Celebrate Easter and Enjoy Our Lenten Menu: Ceviche Fest 2019 at HOUSE Restaurante in Cuernavaca